Children's author, Pam Calvert, used to teach chemistry and physics to high school students before she began writing for children in 1998. Since then, she has taught writing to elementary students, grades first through eighth and speaks to thousands of elementary students each year. She fine tunes her presentations to fit the skill level of the children she presents to and is comfortable with both young and older children. Her gift in the magic of science comes through her dynamic performances which make students of all ages demand more! Not only does she inspire children to succeed in their dreams, but she also encourages children to love math through the use of literature.
Take a look here for an article endorsement about my presentations from a Carrolton School!:
Writing Lessons from a Children's Author
(sessions last approx. 45 minutes)
Multiplying Menace is now a Scholastic Math Reads title! You can find it here: Math Reads as well
as any online bookstore or educational outlet!
Math Magic!
(
K-3rd grade)
A student and teacher favorite!
Pam starts off her program with an exciting science experiment which will inspire children to achieve their dreams. She reads her book, outlining multiplication concepts in an interactive way. The puppet, Rumpelstilts
kin, from the story, Multiplying Menace: The Revenge of Rumpelstiltskin, will visit your school and multip
ly the children's noses! This will actua
lly teach young children how to multiply!
multiplication (even Kindergarten can learn!)

Addition

Subtraction

creative thinking

math literature
Rumpelstiltskin puppet designed by Jim Henson puppeteer, Creature Clones. Picture by Creature Clones.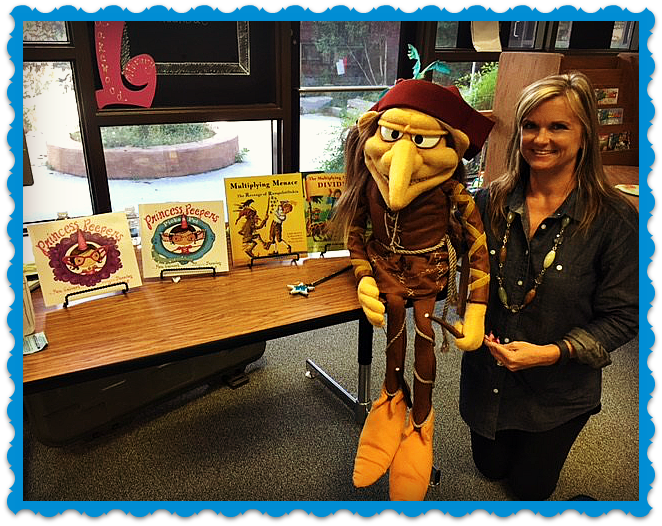 Fun Fractals
(
4th-5th grade)
What's a fractal? Most students will not know until Pam goes through a fun fractal activity that will leave children feeling smart and ready for their next math lesson. Using Pascal's triangle, Pam will show students how easy it is to create Sierpinski's fractal--an activity that will underscore odd/even numbers, addition, and patterns. This activity will follow a Power Point presentation of Pam's math book of either multiplication or division and an exciting "explosive" science experiment which will inspire children to achieve their dreams!
multiplication at the fractional level

addition

subtraction

odd/even numbers

creative thinking

Pascal's triangle

fractals

Sierpinski's fractal

math literature
How to Write a Story! (K-5th grade)
An all age student and teacher favorite!
Through a fun, interactive activity, Pam will audition your students for an exciting skit that will show them how to write a story—this activity has a dramatic, funny twist that is sure to leave your students laughing and wanting to write their own story! This will follow a Power Point presentation of one of Pam's books and an amazing science experiment that will inspire students to achieve their dreams!
How to write a

story

parts of story:beginning, middle, end

character

plot

climax

homonyms

word choice
How a Book is Published
(
3rd-6th grade)
Through a funny yet interesting Power Point presentation, Pam will show how Multiplying Menace or Princess Peepers was produced from imagination to final product. This will follow a presentation of one of Pam's books, and an exciting "explosive" science experiment that will inspire students to achieve their dreams! Q & A session follows the presentation.
editorial process

revision

parts of picture book

process of book production
Note: Pam will need a projector for these Power Point presentations.
Writing Workshop (3rd-6th grade)
(for a class of 30 students only!)
Pam's writing workshop teaches students how to embellish their work creatively. As a former UIL writing coach, she uses her professional knowledge and skill to help kids learn how to choose better words. She also goes over ideas for humorous stories, showing students some of the ways she uses humor in her picture books and has them write a funny, one to two page story. Before they write, she focuses on how to creatively use more interesting verbs. By the end of the workshop, the kids go home with a hilarious story they will be proud to show others. If there's time, the students are encouraged to share their work. Since Pam was also a 1st through 8th grade writing teacher, she will fine tune her writing workshop to the needs of the teachers. She can teach students how to embellish creative nonfiction essays as well. Make sure to specifically ask for this workshop when contacting her.
Praise for this workshop!
Thank you Pam for coming to visit our school and for your amazing presentation on "How to Write! writing workshop" ...The reiteration of spicy verbs, strong word choices, use of similes and much, much more was very helpful... Thank you for your support to teachers.
--Belinda E Edwards, Fourth Grade
Note: Pam will need an overhead projector, document camera, or Smartboard for this session.
Texas children's author, Pam Calvert, lives in the Houston, TX area. Any visits outside her local area (1 hour 30 minute radius from her home north of The Woodlands), will incur minimal travel costs. As she has friends and family in most areas of TX, she usually will not require a hotel fee.
Teachers! Here is an activity guide for Multiplying Menace. Enjoy!
Here's a Princess Peepers Activity: Fun Eyewear!
For other inquiries, please contact Pam for more information. To learn more about Pam's books click here: Brianna Bright Ballerina Knight, Princess Peepers, Princess Peepers Picks a Pet, Multiplying Menace, Multiplying Menace Divides, or Mystery at the Ballpark
Pam offers each school Visit Guidelines, Helpful Hints, Teacher's Guide (for Multiplying Menace only), and 40% off of the list price (when ordering directly through publishers, otherwise, it's list price). Please allow at least six weeks for ordering books.
FEES:
Need more writer's workshops? You may substitute any sessions for workshops.

$795 out of area visits plus travel expenses. 4 session minimum

$895 out of state visits plus travel expenses. 4 session minimum.

$250 per additional session.




$100 discount for full day fee only for all Title One schools.
$200 discount for full day fee if a school brings in two or more schools along with them. Each school will receive this discount as well. For four session visits only.
CANNOT COMBINE OFFERS (choose only one discount)
Please contact Pam at pam@pamcalvert.com to book a visit!
Conferences
Please contact Pam for conference fee information.

Virtual Visits
Don't know how to do a Skype school visit? Click here for more information: Met Any Good Authors Lately?
Schools like my Skype visits, too!
Thank you SO MUCH for skyping with us! It was WONDERFUL! We really enjoyed it! And, we can't wait for your new book(s) to come out!
--Lee Elementary, Springdale, AR
Thank you so much for taking the time to meet with my students and I yesterday. They had a wonderful time and are still very excited! :) It was a great experience to see that "real" people write books. :) I work with a number of struggling/resistant learners and am desperately trying to instill a love of reading/writing. Your presentation was very helpful to see that no one is perfect when writing! We can't wait to read your next Princess Peepers book!
--Seven Oaks Elementary, Wesley Chapel, FL